The radio tower near Plantation Pointe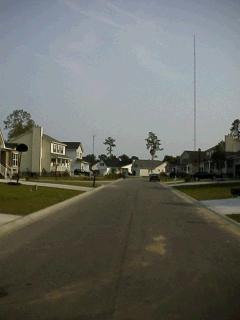 This radio tower broadcasts WJNI-FM, Gospel 106.3.
Its call letters stand for "With Jesus Nothing's Impossible".


Read a letter sent to nearby homeowners from the owner of the tower property about his options for using the land.


The Windsor Hill Civic Association quickly complained to WJNI-FM, on behalf of Windsor Hill residents, that their tower light was too bright. We are happy to report they responded by turning down their tower light significantly.


Have you been experiencing any RF (Radio Frequency) interference problem(s) since WJNI's new tower went up?
At least 1 resident has now filed a complaint to the FCC.


The WJNI mailing address is 5081 Rivers Avenue, North Charleston, SC 29418. The station's phone number is 843-554-1063 and their fax line is 843-554-1088. Ask for Cliff Fletcher, V.P./General Manager.


See 640 x 480 photo of WJNI-FM radio tower, from about halfway on Bent Creek Drive.

---
NOTE: We're happy to report the temporary tower shown on left has now been taken down!
---

Take me back to the top of Windsor Hill Parkway Association Home Page!
Please vote for Windsor Hill in
Top North + South Carolina Web Sites List
!
All photos are Copyright © 1998-2017 Windsor Hill Parkway Association.
Copyright © 2017
Award Winning Web Site Designs.
All Rights Reserved
.
WHPA site is maintained by Bob Chapman (
webmaster@windsor-hill.org
).
Site conforms to
W3C Web Content Accessibility Guidelines
at Level 1-A.