Windsor Hill Plantation
Left-turn Green Arrow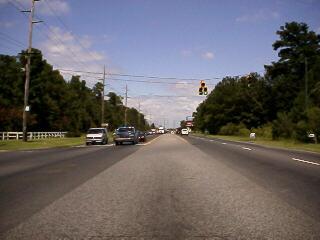 This W.H.C.A. project added convenience and increased safety for all residents and our visitors!
Prior to the Windsor Hill Civic Association insisting that we needed this left-turn green arrow at our entrance, drivers had to look for an opening in traffic to make a left turn. Now, traffic from the other direction has to wait for anyone turning into Windsor Hill Plantation to do so before they can proceed. A "trip-wire" was installed in the middle lane to detect if there is a vehicle turning left. This is similar to a roll over switch which may automatically turn the light green for you, as you are leaving Windsor Hill Plantation. If not for Windsor Hill Civic Association leadership, it is doubtful this light would work for us like it does now!

---
Ricefield | Mill Creek | Colony | Indigo Ridge | Moultrie Place | Plantation Pt. | Gov. Estate
---

Take me back to the top of Windsor Hill Parkway Association Home Page!
Please vote for Windsor Hill in
Top North + South Carolina Web Sites List
!
All photos are Copyright © 1998-2017 Windsor Hill Parkway Association.
Copyright © 2017
Award Winning Web Site Designs.
All Rights Reserved
.
WHPA site is maintained by Bob Chapman (
webmaster@windsor-hill.org
).
Site conforms to
W3C Web Content Accessibility Guidelines
at Level 1-A.