Windsor Crier
News from the Hill - Volume 2, Issue 3 - January/February 1999
Windsor Hill Plantation
Ricefield
Mill Creek
The Colony
Indigo Ridge
Moultrie Place
Plantation Pointe
Governor's Estate

Windsor Hill Civic Association
---
Community Meeting
All Invited!
Please plan to attend on
---
Check Us Out!
If you haven't visited our web site yet, you don't know what you're missing. In the few months the web site has been available, we have won over two dozen awards, including the "Official South Carolina Web Site of the Day" by The South Carolina Information Highway. Our web site was featured in a well-written article in the Post and Courier. This article is available online and includes links to numerous pages. Come on in and visit!

---
Annexation into North Charleston?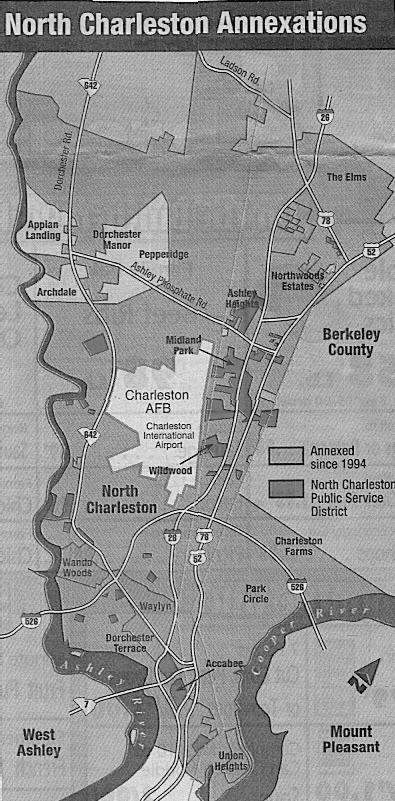 *In recent years, North Charleston has had an aggressive annexation program. Activity in and around our subdivision makes us a potential target for annexation. With this thought in mind, the Windsor Hill Civic Association (WHCA) board would like to present some general information comparing the unincorporated area of Dorchester County to the incorporated area of North Charleston. It's not the intent of the WHCA board to influence your decision in either remaining in the county or annexing into the city. Our main goal is to provide you with information so you can make a knowledgeable decision if and when you are faced with the choice.

[NOTE: Windsor Hill Plantation is located in the second largest light-colored (unincorporated) block, above Ashley Phosphate Road near the middle of this map, between where it says "Dorchester Manor" and "Pepperidge".]

* This is an excerpt of the June/July 1997 newsletter. Check out the web site for more information. Map was in the January 28, 1999 issue of the Post and Courier. [NOTE: The article accompanying this map seemed to imply we might have lower taxes if annexed, but our research indicates otherwise.]

---
Join the Bandwagon!
We now have committees forming for Neighborhood Beautification, Crime Watch, and Neighbors Helping Neighbors. For more information, contact Donna (Indigo Ridge) at 760-1331. The more people involved, the better it will be.

---
Please Support Our Business Partners:
Have You Seen Tupperware Lately?
Open House
Tuesday, February 9th
6-8 p.m.
8390 Coventry Road - Indigo Ridge I
Cooking classes
Time-saving tips
Custom kitchen and freezer planning
No more unidentified fridge objects (UFOs)
See the latest cutting-edge products for all your storage needs.
Mention this ad and receive a 10% discount off any order. Come see new products, have fun, register for door prizes and free gifts. * Serviced by Sandlapper Sales

** Call Debra Braun...767-2460 **
---
Bear Hugs Child Development
Affordable DSS licensed home day care
Experienced provider (CPR, First Aide Certified) has F/T openings 6-weeks to 4K. Home-cooked meals, snacks included also weekly programs and many more extras.
Monday-Friday, 7 a.m. until 6 p.m.
Call Ms. Barbara at 760-6190 for more information.
---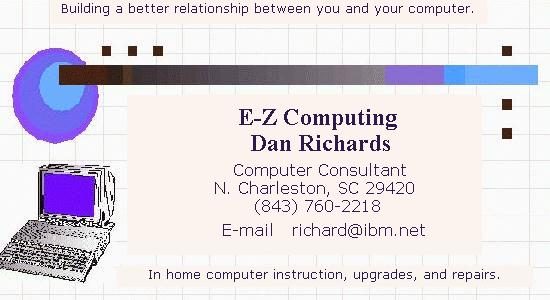 ---
Support Our New Business Partner:
Heide Handler
Realtor/Owner
Selling a home?
Buying a Home?
List your house one day at a time!
The Agent Owned Realty Co.
1800 Old Trolley Road
Summerville, SC 29485
Consult a Professional
Call me today!
Office: (843) 871-9133
E-Mail: HHandler@compuserve.com

If your property is currently listed, please disregard this offer.

---
Oakbrook/Summerville Little Leagues
Spring Registration $35
Last Day for Registering is Today!
Call 875-7333 for locations and times.
Bring a copy of your child's birth certificate.
---
Have news to share? You can request an article submission form by e-mail, regular mail or fax.
For advertising information (1/6th page only $25.00 per issue!), please contact Windsor Crier Editor Susan Lotterer at (843) 767-1727. Feel free to send Susan E-mail at (SuLot@aol.com).
Our very reasonable advertising rates include a link to your e-mail address to gauge response.
If an advertiser has a web site, we'll include a link to their home page at no additional charge.


Windsor Hill Plantation | Windsor Hill History | Virtual Tour | Map | Newsletter | Successes | By-Laws | School | Awards |
Governor's Estate | Indigo Palms | Indigo Ridge | Mill Creek | Moultrie Place | Plantation Pointe | Ricefield | The Colony
---

Take me back to the top of Windsor Hill Parkway Association Home Page!
Please vote for Windsor Hill in
Top North + South Carolina Web Sites List
!
All photos are Copyright © 1998-2017 Windsor Hill Parkway Association.
Copyright © 2017
Award Winning Web Site Designs.
All Rights Reserved
.
WHPA site is maintained by Bob Chapman (
webmaster@windsor-hill.org
).
Site conforms to
W3C Web Content Accessibility Guidelines
at Level 1-A.