Revolutionary War Hero General William Moultrie
General William Moultrie - National Hero of The American Revolution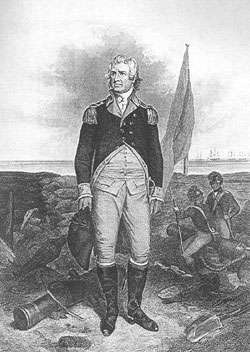 Portrait of General William Moultrie
Born: November 30, 1730 in Charleston, South Carolina
Died: September 27, 1805 in Charleston, South Carolina

Early Life: 1730-1776
William Moultrie was born in Charleston, South Carolina on November 23, 1730. His father, a prominent physician, had come from England in 1728. He lived on a plantation in St. John's Berkeley County. In 1749, he married Elizabeth Demaris de St. Julien. After her death, he would marry Hannah Motte Lynch. Moultrie rose to prominence after serving as a militia Captain in the Cherokee expedition under Lt. Colonel James Grant in 1761. Even though William Moultrie was a political moderate, when the Revolution came, he joined the rebellion. He was elected to the 1st Continental Congress in 1774, but did not serve. On June 17, 1775, he was given the commission of Colonel in the 2nd South Carolina Regiment.

Fort Sullivan: June 28, 1776 (celebrated as Carolina Day)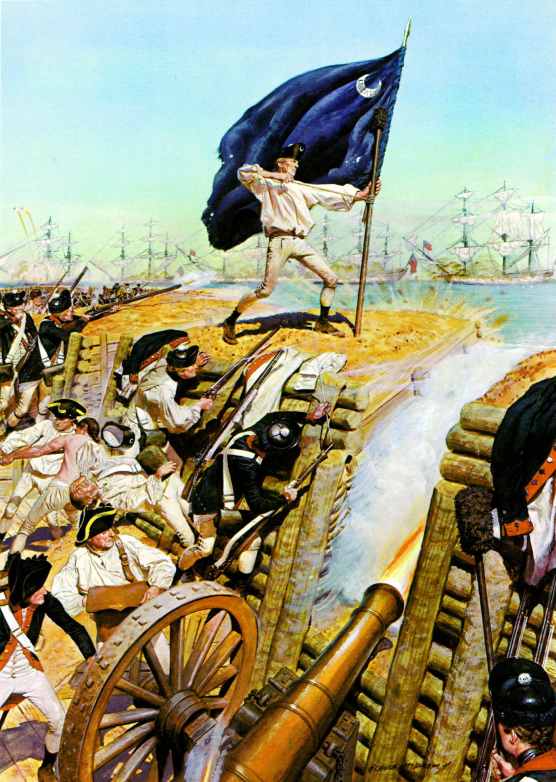 Sergeant William Jasper saves flag at Fort Sullivan in Charleston SC June 28, 1776.

A British fleet of ten vessels opened fire on Fort Sullivan, in Charleston harbor, S. C. on June 28, 1776. The fort, being commanded by Colonel William Moultrie, returned the fire with remarkable accuracy.

During the battle, Sergeant William Jasper, an illiterate youth who could not even read, made a name for himself in the history of his country by an act of momentary reckless heroism. The flagstaff was broken by a cannon ball, and the flag fell outside the fort. Jasper leaped down the embrasure in the face of the enemy's fire, gathered up the fallen banner, and planted it in the sand on the bastion. The people of Charleston, watching the battle from downtown roofs, had feared the worst when the flag went down. But they all cheered when it was raised up again. The story of this act of heroic valor in the American Revolution is still told today.

After an engagement of twelve hours the British fleet withdrew, badly crippled. This victory gave security to South Carolina and Georgia for three years. As a result, William Moultrie became a national hero, he was promoted to the rank of General and Fort Sullivan was renamed as Fort Moultrie in his honor. June 28th is still remembered annually as Carolina Day with a local and State Holiday in South Carolina.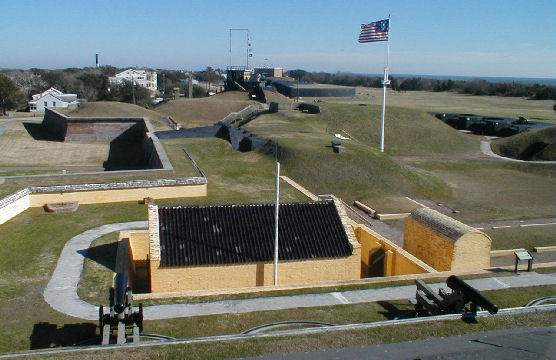 Fort Sullivan renamed to Fort Moultrie in his honor. He was reinterred here in 1977.
In 1776, William Moultrie was second-in-command of Charleston, South Carolina's defenses. He was charged with construction of Fort Sullivan, which had been planned out in January 1776. Moultrie did not have stone available to construct the walls, so he used palmetto logs to build two parallel walls sixteen feet apart and filled in the gap with sand. At the time of the British arrival on June 2nd, only the south and east walls were complete. The new Southern Department Commander, Major General Charles Lee arrived a couple of days later on June 4th.

General Lee inspected the incomplete fort and felt that it should not be defended, but South Carolina Governor John Rutledge overruled him. Moultrie himself was also confident in the fort's capability. Meanwhile, Major General Henry Clinton landed on the adjacent Long Island (now named Isle of Palms), planning to cross over the two islands and attack Fort Sullivan from that direction, but he was having difficulty crossing over. Moultrie ordered fortifications built there, so that even sending troops across by the few boats he had was now out of the question.

At 11:00 A.M., on June 28, 1776, Commodore Peter Parker began his bombardment of the fort with around 100 guns and the Battle of Fort Sullivan had begun. When three ships attempted to move into the harbor west of the fort, they got stuck on a shoal. Moultrie began a steady reply with his guns. The fort itself withstood the assault thanks to the spongy palmetto logs and the sand, which absorbed the cannon balls. Under his command that day were Lieutenant Thomas Sumter and Major Francis Marion. When General Lee visited the fort during the action, he was pleasantly surprised with how well the fort was withstanding the assault. The action ended at 9:30 P.M. and the beaten British ships slipped away at 11:00 P.M.

Revolutionary War: 1776-1782
When word of Moultrie's stout defense of Charleston reached the other colonies, it gave the rebels new hope in their cause. Moultrie became a national hero. However, his easygoing manner allowed some criticism to begin that he had been somewhat derelict in his preparations. This criticism would continue. On September 16, 1777, Moultrie was commissioned a Brigadier General in the Continental Army. However, he did not participate in any significant field operations until after the British capture of Savannah, Georgia on December 29, 1778.

Under Southern Commander Major General Benjamin Lincoln, Brig. General Moultrie was given a measure of independence of command. He commanded at Beaufort (Port Royal Island), South Carolina on February 3, 1779 where he defeated 200 British troops. This defeat discouraged Colonel (later Major General) Augustine Prevost from pursuing operations north into South Carolina until May 1779. Moultie helped organize Charleston's defenses when General Prevost threatened the city on May 11-12, 1779. Moultrie was involved in the American defeat at Stono Ferry, South Carolina on June 20, 1779. He was again elected to the Continental Congress, but declined to serve. In 1780, Moultrie was captured following the Siege of Charleston on May 12, 1780 and remained imprisoned for the next two years. He was exchanged for Major General John Burgoyne in February 1782. On October 15, he was promoted to Major General, the last such appointment of the war to that grade.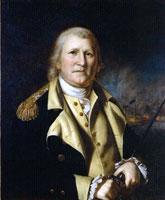 After the Revolutionary War (1782-1805)
Following the war, William Moultrie was elected to the South Carolina House of Representatives in 1783. In 1784, he served as Lieutenant Governor. He was then elected governor for a two-year term in 1785. While governor, he created the county court system and the capital was moved from Charleston to Columbia in 1786. He was elected to the State Senate in 1787. He was elected to his second two-year term as governor in 1792. He retired from public office 1794. In 1802, his Memoirs of the American Revolution were published in two volumes. Moultrie died in Charleston on September 27, 1805. He was interred at Windsor Hill Plantation. Fort Sullivan was renamed Fort Moultrie in his honor. In 1977, when his home property was being developed, a monument at Windsor Hill Plantation was built at the entrance and his remains were reinterred at Fort Moultrie.

---

Windsor Hill Plantation | Windsor Hill History | Virtual Tour | Map | Newsletter | Successes | By-Laws | School | Awards |
Governor's Estate | Indigo Palms | Indigo Ridge | Mill Creek | Moultrie Place | Plantation Pointe | Ricefield | The Colony
---

Take me back to the top of Windsor Hill Parkway Association Home Page!
Please vote for Windsor Hill in
Top North + South Carolina Web Sites List
!
All photos are Copyright © 1998-2017 Windsor Hill Parkway Association.
Copyright © 2017
Award Winning Web Site Designs.
All Rights Reserved
.
WHPA site is maintained by Bob Chapman (
webmaster@windsor-hill.org
).
Site conforms to
W3C Web Content Accessibility Guidelines
at Level 1-A.